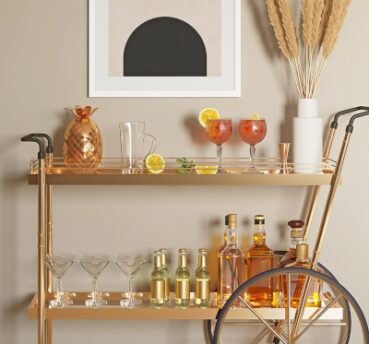 With most bars being closed over the past year, creating a home bar has been a fun way to celebrate and relax at home. While setting up a home bar can be expensive, knowing the basics can help you set a budget and create the perfect watering hole at home.
3 Considerations Before You Begin
Before you create your home bar, here are some things to take into consideration:
Cost: What is your budget for building a home bar? Knowing how much you want to spend on your home bar upfront can help you avoid accumulating costs on high-end liquor and equipment later on.
Space: Before stocking up on a bunch of bottles and equipment, consider: how much space do you really have for your home bar? If it's limited, you might want to stick with the essentials, or whatever is essential to make your favorite cocktails.
Your preferences: The recommendations below are for a general home bar on a budget, but designing your home bar is totally up to you. If you love gin and don't care for whiskey, expand your gin collection and limit your brown liquor. Don't stock up on something you're not going to use. Instead, focus on what you and your guests will love.