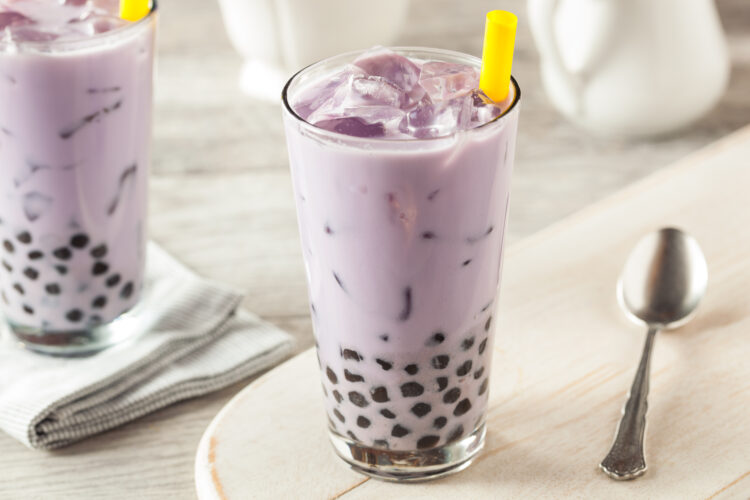 Bubble tea has been available for a while in the U.S., but now its popularity is skyrocketing. What makes this drink so special, and what flavor should you try first? Get all your bubble tea questions answered.
What is Bubble Tea?
Originating from Taiwan, bubble tea, otherwise known as Boba tea, is typically made from milk, sugar, tea and tapioca pearls. The result is a sweet, caffeinated beverage with an added textural component that people love.
Bubble tea drinks come in many flavors, feature different types of tea — black, green, or oolong — and come with or without dairy, sweeteners, and those distinctive pearls. So, the flavor can really vary depending on how you prepare it!
Types of Bubble Tea
There are several ways you can create different recipes for bubble tea, from plain milk or Thai tea to fruity, alcoholic or shaved ice bubble tea! Each ingredient lends itself to an endless variety of possibilities. The main ways to switch it up are in varying the three main ingredients: tea, milk, and bubbles.
Teas
Using different types of tea in bubble tea brings different flavors.
Black tea is the traditional tea for Boba tea. Using different black tea blends, like Early Gray, can provide subtle variations in flavor.
Green tea, including jasmine green tea or green tea powders like matcha, is another popular base for Boba tea.
Fruit tea is often combined with fruit purees or fruits syrups to impart a sweeter flavor.
While most bubble tea has tea as the base, there are some versions that don't have tea at all, including shaved ice and alcohol.
Milks
Bubble tea drinks typically contain milk or a milk alternative, providing that signature creamy flavor.
Non-dairy creamers and milks, like almond or soy milk, are very popular in Boba tea drinks.
Coconut milk lends itself to fruity bubble tea in particular.
Sweetened condensed milk is used in Thai tea and is common in more traditional Boba tea options.
Not all bubble drinks have milk, such as certain fruit-flavored bubble teas, but many do include that signature creamy element.
Bubbles
While the bubbles in Boba tea actually refer to the air bubbles formed by shaking up the drink, most people now refer to the bubbles as the pearls or boba found in the drinks. There are several options for this part of the drink.
Tapioca pearls are the traditional and most popular chewy, textural balls in a bubble tea drink — in fact, many people just call them "boba." They have almost no flavor, and are usually a dark purple color.
Popping boba are tapioca pearls that pop in your mouth and add a burst of flavor.
Taro balls are made from the taro root, and can be added to taro root bubble tea or other drinks.
Jelly cubes can provide a sweet or herbal flavor to boba tea, complementing green tea or fruity drinks.
This chewy texture is called "QQ" in Taiwan and China, and doesn't necessarily have to bring added flavor. Additional mix-ins that provide flavor to bubble tea drinks range from fresh fruit and pudding to red bean and cheese cream.