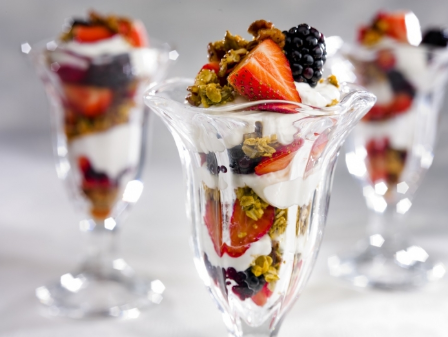 Looking for quick and easy breakfast ideas that the whole family can enjoy? Whip up a delicious yogurt parfait or flavored cream cheese in seconds with one of our easy-to-execute breakfast recipes! Monin has hundreds of flavors to choose from, so morning mealtime at home will never be boring again. Flip your a.m. routine upside down with delicious flavors like coconut, pineapple, or blueberry. Preparing your own gourmet yogurt parfait might sound complicated, but it's as easy as 1-2-3! Start with 1 cup of yogurt, stir in 2 tablespoons of the Monin Flavoring of your choice, and mix in 3 layers of toppings (such as berries, almonds, and granola).
Not a fan of yogurt? No problem! Try a flavored cream cheese or hearty oatmeal instead. Enjoy! – Chad
Follow us on Instagram or Facebook for even more recipe inspiration. Share your creations using #MoninAtHome for a chance to be featured! 
View our complete collection of all flavors here.