Flavor Kitchen
Keep track of all the latest tips, trends and up-to-the minute product information from our Clearwater Beverage and Marketing team. This is the place to check for the hottest, the latest and the best flavors for all things drinks and culinary.
Valentine Fondue for Two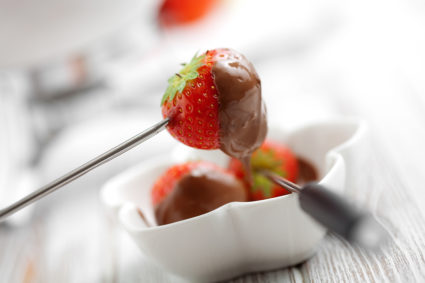 Have a special someone in your life that you're extra 'fondue' of?  Is "I'm so glad I've 'fondue'!" something you find yourself saying often? Okay, enough with the cheesy puns, Valentine's Day is all about the chocolate! This chocolate fondue recipe has all the elements you need to surprise your loved one on Valentine's Day - or any day for that matter. Rich chocolate, bold espresso and nutty hazelnut flavors combine perfectly. Use to dip everything from sweet strawberries and other fresh fruits to biscuits and cookies. Enjoy! – Chad
Check out the full range of Monin Concentrated Flavor here.
Preparation
In heavy saucepan over medium heat, melt chocolate chips, butter and sweetened condensed milk. Cook and stir constantly until smooth and thickened, about 5 minutes. Remove from heat, add Monin® products and stir to incorporate. Serve warm as a fruit and cookie/cracker dipping sauce or drizzle over ice cream or cake. Store leftovers covered in refrigerator.