Flavor Kitchen
Keep track of all the latest tips, trends and up-to-the minute product information from our Clearwater Beverage and Marketing team. This is the place to check for the hottest, the latest and the best flavors for all things drinks and culinary.
Citrus Honey Healer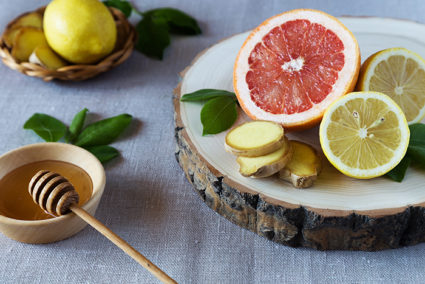 Consider this your new favorite happy juice. The Citrus Honey Healer was created just for hurting hearts (literally!) or those just hungover from "Galentine's" Day. The natural healing powers of turmeric help reduce inflammation and get this… tame your heartburn! The bitter, slightly aromatic profile requires some extra love to make it tasty. Monin's sweet and tangy Yuzu Fruit Purée and natural Honey Syrup do just that. Combine with fresh grapefruit juice and you have one delicious, citrus elixir.
So get out there and do your thing! Then heal up and get happy with the Citrus Honey Healer. Cheers! - Anne
Check out our full range of premium flavored syrups here.